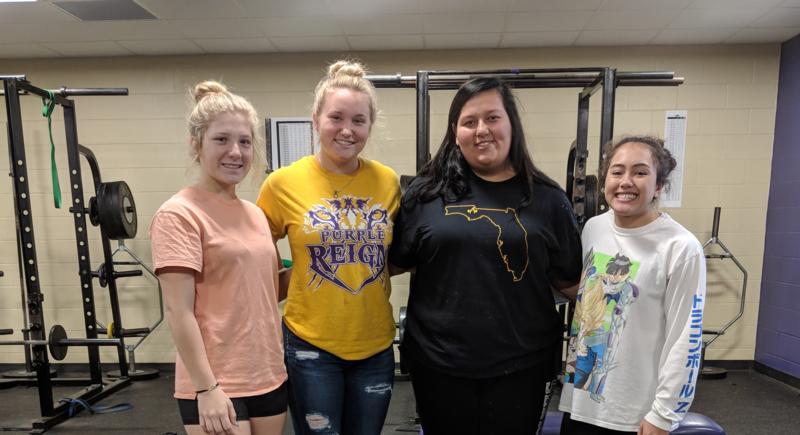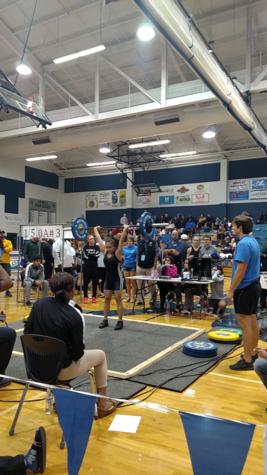 Nikki Richards became the 42nd state medalist from Altha School over the weekend. Richards just missed a clean and jerk at 150 pounds that would have more than likely won her a state title. She finished with a 300 pound total, losing state by 5 pounds. It was the 8th time Altha has had a state runner up in weightlifting. Richards, a junior, broke all 119 pound school records at the meet in only her second year being a lifter. Coach Robbie Smith credits her success to genetics and dedication. "She is as gifted physically as any lifter I've ever had. She was one of the few girl lifters who came and worked out over the summer. Her talent and dedication paid off Saturday!" Richards had the highest bench press at the meet in her weight class getting 155 pounds.
Senior Makenzy Perkins ended her career equaling her school record total of 380 pounds. Makenzy finished 12th in her final meet. She will leave Altha as a three-time district champion, two-time state qualifier, and the overall highest total by a girl lifter.
Junior Bobbi Finuff finished 9th place in her first time lifting at the state final. Finuff went 4 for 6 on the day ending with a 295 pound total. She just missed a bench press of 160 pounds that would have broken the school record in her weight class.
Sophomore Marijane Davis finished in 10th place in the 139 pound weight class. It was Marijane's second year qualifying. She finished in 19th place her freshman year. Marijane got a personal best clean and jerk of 135 pounds at the meet. She finished the meet going 5 for 6 with a 275 pound total.
As a team Altha finished 14th out of 48 schools who scored points at the meet.